How do I book an event?
1. Check the calendar on the Booking page to see if your desired date and time are available.
2. Fill out the Google Form on the Booking page.
3. Wait for an email confirmation from the DJ. The DJ will confirm by sending the invoice and the contract. DJ Contract Example
4. Sign and return the contract. The payment is due by the conclusion of the event.
What is the pricing?
Pricing is based on the number of hours of DJing, if a PA and/or turntables are being provided, and the distance the event is from zip code 53207. The hourly rate is $100 for the first hour and $50 for each additional hour. Sales tax is added to the bill. See the Pricing page for more details and a pricing calculator.
How do I pay?
Zelle is the preferred way to pay. You can use the below QR code and email address below to pay.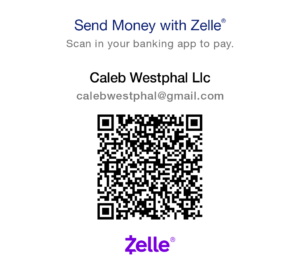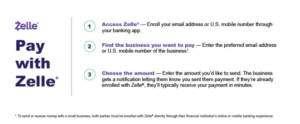 You may also pay by PayPal, by check, or with cash.
The balance is due by the conclusion of the event.
How do I contact Caleb?
What is the gear setup?
two Audio-Technica direct-drive turntables, mixer, power amp, two 15″ speakers